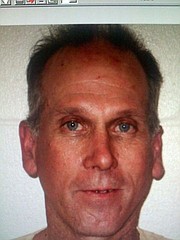 FROM A UMATILLA COUNTY DISTRICT ATTORNEY'S OFFICE PRESS RELEASE:
Numerous law enforcement agencies are continuing attempts to locate aperson of interest connected with a Friday morning homicide inMilton-Freewater, Oregon. Anyone with information is asked to callUmatilla County Sheriff's Office dispatch at (541) 966-3651.
According to Umatilla County District Attorney Dan Primus, 49-year oldMilton-Freewater resident GEORGE WEST CRAIGEN is a person of interestin the homicide investigation. CRAIGEN is described as a white male,5'7", 160 lbs, with blue eyes and salt and pepper collared light hair.He was last seen on foot fleeing into an orchard armed with handgunwest from the crime scene.
Members of the Umatilla Morrow County Major Crime Team would like tolocate and interview CRAIGEN regarding information related to thisinvestigation. Anyone with information is urged to contact UmatillaCounty Sherriff's Office Dispatch at (541) 966-3651. Law enforcementbelieves CRAIGEN is armed and dangerous and cautions anyone to notattempt to contact him.
On Friday morning, December 30, 2011 at approximately 8:30 a.m.officers from the Milton-Freewater Police Department and deputies fromthe Umatilla County Sheriff's Office responded to a potential homicidein Milton-Freewater, Oregon. The Umatilla Morrow County Major CrimeTeam was immediately activated and continues to investigate.
The Umatilla County Sheriff's Office is the lead agency conducting theinvestigation with the assistance of Oregon State Police,Milton-Freewater Police Department, Boardman Police Department,Hermiston Police Department, Pendleton Police Department, Walla WallaPolice Department, Morrow County Sheriff's Office, Umatilla TribalPolice Department, Walla Walla Police Department SWAT Team, OregonState Police SWAT Team, and the Office of the Umatilla County DistrictAttorney. Umatilla County Sheriff's Office Detective Dave Williamsonhas been appointed as the coordinating officer for the investigation.
The investigation is in its early stages. Further information will beprovided when it becomes available.