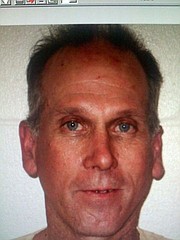 MILTON-FREEWATER - The search continues for George West Craigen, 49, who is wanted in connection with the Friday shooting of Cecil "Rob" Carter, 58.
Carter was shot in the office of his plumbing contractor business located near his home.
The search, however, has been reduced considerably from the 60 or more law enforcement personnel from Oregon and Washington who searched for Craigen on Friday.
"We did not call off the search. Some of the SWAT members have been relieved, but the Oregon State Police SWAT will remain," Umatilla County District Attorney Dan Primus said.
Authorities are calling Craigen a person-of-interest, but it was clear to family members that Craigen had blamed Carter for his recent arrest by Umatilla County authorities in May 2011.
In May, Craigen was arrested for being a felon in possession of a firearm, though he was also wanted for an assault in Hawaii that occurred in 2000, Primus said.
Craigen was booked in the Umatilla County Jail, where he remained until Nov. 6, when he posted a bail bond with $19,700.
Primus estimated Craigen's full bail to be around $200,000 and said it was for the firearms offense.
It was uncertain if victims or other connected individuals were notified of Craigen's release from Umatilla County Jail.
Primus said his department is not immediately notified when a suspect is released on bail.
Friday's shooting occurred at 52856 Stephens Road at around 8:30 a.m.
Carter was proclaimed dead shortly after at Providence St. Mary Medical Center in Walla Walla.
What followed Friday was a massive search through the local orchards and mountains by law enforcement from as far away as Roseburg, Ore.
Walla Walla County and city officers were also called in, as well as spotter planes.
The search continued through the night, as officers searched outbuildings and other hidden areas, contacting a number of neighbors as they drove the back hills southwest of Milton-Freewater, Primus said.
On Saturday, the search was reduced to Oregon State Patrol SWAT personnel, which included at least 15 troopers from across the state.
Primus said state SWAT teams will remain in the county and search specific areas as directed.
Authorities in Oregon, Washington and Idaho have been notified of the search for Craigen, who is considered armed and dangerous.
The FBI was also contacted because of its involvement in the May 2011 arrest, Primus said.
Craigen is described as a white male, 5'7", 160 pounds, blue eyes, with light salt-and-pepper hair.
Anyone with information on his whereabouts should call Umatilla County Sheriff's Office Dispatch at 541-966-3651.
Tips offered for safety during manhunt
A short (mostly common sense) tip sheet from the Washington State Patrol on staying safe while officers hunt for the suspect:
Keep your home and vehicles locked (and make sure your keys aren't in your vehicle, locked or unlocked).
Be aware of your surroundings and any people who may be out of place. If you see someone who shouldn't be in the area or who is suspicious, call 911.
Don't take the law into your own hands - officers are trained to deal with dangerous individuals.
Lt. Roger Wilbur, a patrol spokesman from Tri-Cities, urged residents to be vigilant and report anything out of the ordinary. Wilbur said often local residents will notice something suspicious even before officers because of residents' familiarity with the local area.