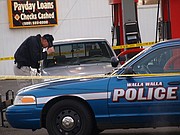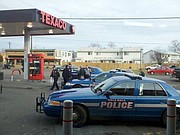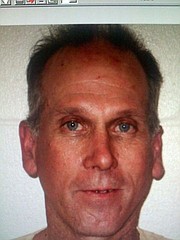 WALLA WALLA — George West Craigen, the suspect in a fatal shooting west of Milton-Freewater, was apprehended Sunday afternoon by Walla Walla County deputies.
Craigen, 49, was wanted in connection with a fatal shooting Friday of Cecil "Rob" Carter.
The crime set off a massive manhunt that at one point involved more than 60 law-enforcement personnel from Oregon and Washington.
Around 1:30 p.m. Sunday, officers were informed that a passenger in a 1991 Silver Toyota pickup traveling from Milton-Freewater to Walla Walla matched Craigen's description, officials said.
The tip came from a number of citizens in the Milton-Freewater area who spotted Craigen in the vehicle.
The silver Toyota pickup was later spotted by a Walla Walla County Sheriff's deputy, who called in backup and then initiated a routine traffic stop near Ninth Avenue and Chestnut Street.
After the pickup pulled into the PDQ Food Mart, 506 S. Ninth Ave., deputies and Walla Walla police officers surround it with weapons drawn, according to officials and witnesses.
The driver, Jason Stiller of Milton Freewater, was asked to leave the vehicle and then taken into custody.
Deputies then asked Craigen to exit, which he did without incident.
Craigen is currently in the Walla Walla County Jail awaiting extradition to Oregon, officials said.
Stiller was arrested on investigation of driving under the influence and rendering aid to a criminal.
Stiller's Toyota remained at the PDQ for more than an hour, until Washington State Patrol bomb squad personnel were able to confirm it did not carry explosives.